The Gift that never stops giving.
I was just going to post the gifts I'm grateful for tonight.. but then I realized I wasn't being real. This is for me my outlet to get my feelings and thoughts out and if I only post when God is teaching me something awesome or if I'm doing really well then I wouldn't be being real with myself.
Truthfully, yesterday was a hard day. Christmas was wonderful, I enjoyed celebrating Jesus' birth and I loved being with family but yesterday I was irritable and anxious. Things seemed harder than normal, the house seemed extra out of control, the laundry beyond catching up, the kids super needy, my stress level just felt to the top. I haven't been sleeping well for the last 2 weeks. I seem to be waking all night long.
And I'm SICK OF TAKING PILLS, lots of them. It's gotten to where in the mornings I hold them forever because I have to talk myself into taking them all. Then I feel nauseous all morning till late afternoon. Blah. And nighttime is better but again I dread taking them. I have to take 15 pills a day! 9 different meds and some of them I take several of each day. Wahh I know, poor me. I try not to loathe or pity myself but I hate it sometimes! Ok I got that out.
I am still fighting thoughts towards myself that just pull me down and it's taking me a bit to remember to run to Him instead of just getting discouraged and frustrated with myself and then falling into the spiral of lies that Satan gives.
Last night I was feeling so out of sorts and walking around the kitchen just doing, functioning, surviving... and so angry with myself with how I was being. When I get depressed or anxious or overwhelmed I start beating myself up inside and things just get worse from there. I feel like I'm failing and as much as I want and try I can't change myself. Marc said "Honey isn't this where giving grace to yourself comes in?" And my response was "I'm tired of needing grace!" what, well I'm a bit far from the mark. And quite prideful and warped in my thinking. He said "You're tired of needing grace? Isn't that what God is always wanting to give us? Isn't that what we need?" It is what we need. I need His grace. I'm very lost and broken and my mind still deceives it's self in thinking I can do something to earn it... missing the whole point.
So I stepped back and prayed a bit and tried to be gentler on myself.
Today was a much better day. Accomplished a few things, played a lego game with the boys, played cards with 3 of the kids, played cars with JM, and it was a quality time day. Then we went and decorated gingerbread houses at Aunt Nina's (a very special tradition) and I loved it, kids loved it. Get home and make yummy chicken cheese potato vegetable soup.... right after Isaiah gets up from the table he runs to the bathroom throwing up. Blah blah... not this again. We just got over 2 weeks of a really bad flu here. I can't do this again. Please God don't let us all get sick again. Not this week especially because I'm PMS'ing and my patience is thin. I'm laying it at His feet and if sickness stays again then I'm praise God anyway, and I'll cling to Him and speak the Word.
So I digress, I am weary, I am broken, I can't run fast or hard enough to out run this bipolar depression stuff, and it comes and goes so quickly. Atleast since my bipolar is rapid-cycling I don't stay in one episode for too long. So when I'm down I at least can have hope that it won't last forever.
So that grace my husband was talking about, yeah I need it and I'm taking it today. Even if I don't feel it I'm speaking it to be true because I KNOW it is, I experience it every day all day.
2 Corinthians 12:9
But he said to me, "My grace is sufficient for you, for my power is made perfect in weakness. Therefore I will boast all the more gladly about my weaknesses, so that Christ's power may rest on me."
This verse is a challenge for me. I first wrote "My grace is sufficient for you" and that's comforting but then I looked it up to find where it's at and I read the rest of the verse. "For My power is made perfect in your weakness". I feel weak and I struggle with letting His power shine through my weakness. I believe Him at His word though and I'm going to start praying about this verse.
"Though my heart and my flesh may fail, God is the strength of my heart and my portion forever." Ps 73:26
Continuing to count my gifts from Jesus with a grateful heart..
#155-#182
Christmas! Jesus's birth, our gift of His love.
Watching Caleb and JM run and hide and chase and laugh.
Walking into the livingroom to find Caleb reading a book to JM. So precious!
God never gets tired of my need for Him.
God's grace is never-ending and never limited.
Hot Chocolate.
Ginger bread houses at Aunt Nina's.
Art Easel and the littles drawing on it
.
A warm house.
The joy of taking hot soup to a friend.
Past memories of Christmas with my family when I was young.
New memories Of Christmas with my family now.
Sleepover with close friends
I'm grateful for the peace I receive when I thank God.
Kids and Marc and I enjoying the Wii sport together.
Rebecca and Sarah being crazy good at wii bowling.
JM playing with his matchbox garage and cars. Caleb playing with him.
God's grace is new every morning.
Daddy reading to JM.
God never tires of giving me His grace.
That God is stronger than my weaknesses and shortcomings.
My Family.
God's love covers my sin.
I'm grateful that God is fighting with and for me when I'm struggling.
Every day is new and even if today was hard, tomorrow is a new day.
His grace is sufficient for me, always.
He never run out of things to thank Him for because He never stops blessing me.
His faithfulness to me.
Making cut out cookies with my kids and my best friend and her kids.
Christmas at my Mom's with family.
That Marc's parents are so thoughtful to want us to be home with our families on Christmas.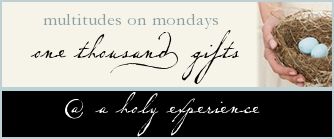 hi